I have a LOT of girlfriends who love to go shopping together; shopping for clothing. I can't stand shopping for clothing! I'd much rather shop for FOOD! I'm fortunate to have a LOT of girlfriends who also love food, and they love going on culinary adventures. Farmer's markets are some of the most exciting places in the world, if you use all of your senses to engage in the experience. I created a three minute video of one particular adventure because it was a whole morning of sensory pleasure with three women from completely different parts of the world.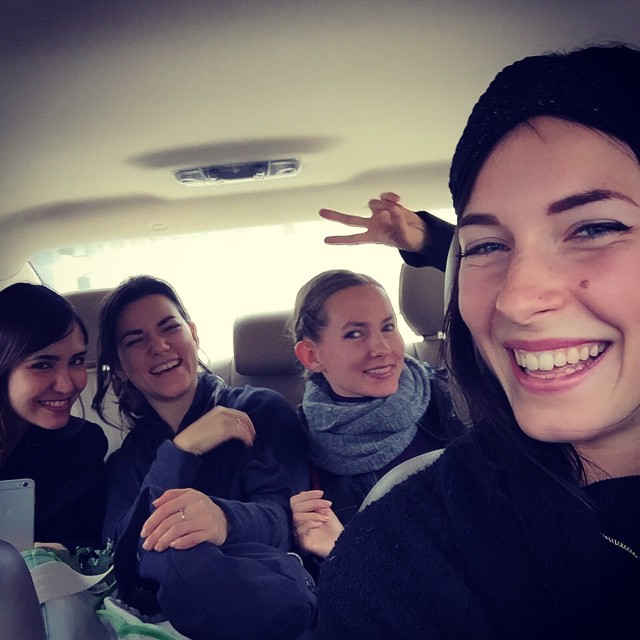 Mercedes, is from Buenos Aires, Argentina;  Yuliya, is from Osipovichi, Belarus; and Emilia is from Gdansk, Poland.  We have so much fun eating and shopping (for food) together-and I enjoy it because of each girl's unique approach. They each grew up with traditions in the kitchen, and still very much enjoy the cuisine of their home country. Though, we quickly found that we have one love in common: donuts! Who would've thought? I'm being totally honest. We talked about donuts all day. Our mission was to find the healthiest version of this indulgent dessert. When we did, we savored every morsel with pure joy.
While I was in Mexico, working at Crossroads Treatment Center during New Year's Eve week, 2014, I spoke with one of the staff (and now very good friend) about reclaiming our roots, and the process of healing our relationships on a deeper level. I'd consider this friend incredibly knowledgable. He spent over a decade working with native tribes internationally, and is a trained psychotherapist. I deeply respect his teachings.
[Tweet "We can literally eat culture through food, and transmit culture through food"]
He spoke about "cooking a meal your grandmother would have cooked." This traditional food is a direct link to culture. There's alchemy to traditional dishes. There's a rhyme and reason to the way that these traditional foods are prepared by each culture. We can literally eat culture through food, and transmit culture through food. There's a common feeling I've noticed among many friends, and that's this lack of identity and culture. In America, we're a part of a big melting pot, and I truly believe that it's important to connect to a deeper sense of identity. Food is a fantastic way to do that. We've also lost our connection to the land. When we go to the farmer's markets, and meet the people whose hands have touched the soil that our food grew in, we begin to reconnect. There's also something amazing about women-specifically, taking this local food, and cooking it in their home. They transfer that feminine, loving energy into the food, and feed it to their man. Women are innately nurturing, and cooking food cultivates that nurturing instinct.
More simply put, go grocery shopping with your girlfriends, make it fun, and enjoy yourself (guys send your ladies out for a day of food adventures)! Make a day of it, and let yourself indulge in a donut! You'll make the world a better place. I promise. But first! I invite you to come grocery shopping with me and the girls…
disclaimer: Men can grocery shop too! 😛
Please share this with your friends and lover if you enjoyed it!  If you agree, or disagree with my words, I always love to engage in conversation about food, so post your comment below this article and I'll respond quick! What traditional food would you like to cook?
Important announcement!  On April 30, I will be hosting a live event with the lovely Rachel, of Rachel Rose Holistic.  More details to come, but be sure to register for this FREE event on eventbrite to stay in the loop! This isn't one to miss, Rachel is incredible!