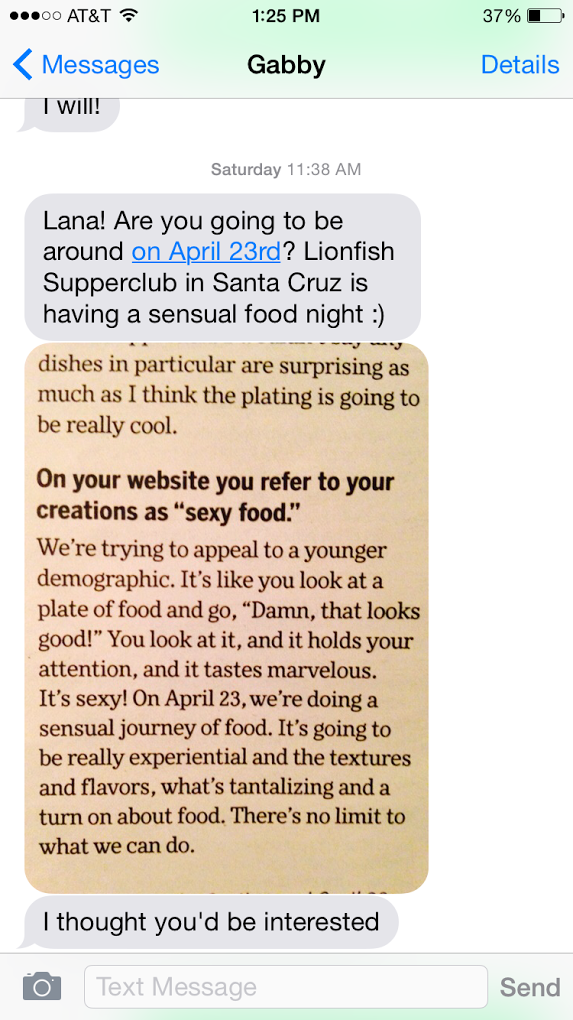 This is a text my girlfriend Gabby who lives in Santa Cruz, sent me on Saturday.
I was so excited, that I forgot to respond to her for an entire day, because I was online finding out every detail I could about this event.  A Sensual Food night? Could it be? This concept isn't a secret.  Sensual Food is the where it's at!
If you have been wondering exactly what I'm talking about when I mention Sensual Food, here's your opportunity to get the download, live! For all of you who don't happen to live in Northern California, no need to fear, this idea is clearly spreading like wildfire. Tuning into the sensuality of food is the inevitable direction. If you're eating fresh, vibrant, colorful, local and delicious food, engaging and igniting all of your senses is almost involuntary. Though something incredible happens when you put your attention on it. Read on to get an idea of how to do just that.
This event is going to be divine. This is what I found on the event page:
"7-9pm

$35 per person/$65 per couple or pair*
What is the root of sensual? Where is the boundary of sensory input? What teases the senses?
Enjoy this tantalizing and tasty exploration of the senses: the tongue, enveloping touch and irresistible aroma.  Chef Zachary Mazi of LionFish SupperClub and Amy Baldwin of Pure Pleasure are teaming up to delve into the very refined art of taste and sensation, surprise and excitement.  Experience a 5-course culinary tasting journey into the sensuality of the mouth and imagination.  We will  start with an aphrodisiac inspired menu, and on this build a nearly-spiritual experience of food and sensation.  This is an experiential class with a twist of mindfulness meditation, sensory immersion, playful exercises, and of course, chocolate.
Seating is limited for this special event, so be sure to reserve your space ASAP.
This class is open to individuals and couples/pair of all genders and orientations.
Props: Please bring a blindfold or necktie – one per person."
Bring a blindfold or necktie? I'm so in love. The pricing is really just too good to be true. The event details [above] gave me goosebumps as I read. This is 150% Sensual Foodist approved. If you're in the area, go to this event!
If you're not in the Bay Area, or nearby, I encourage you to send this info on over to one of your favorite local restaurants that serves local, sustainable (mostly organic) fare and let them know that it's their turn. Just do a quick google search if you're not familiar with them yet. This isn't a trend, I'll assure you. This is the way we're meant to enjoy food! This is an image on the LionFish Supperclub website. Go check it out, now!
Event registration is here. Google search "organic restaurant" + your city if you're over 50 miles away, and be the catalyst in your area! I truly cannot think of a better dinner date night for you and your love.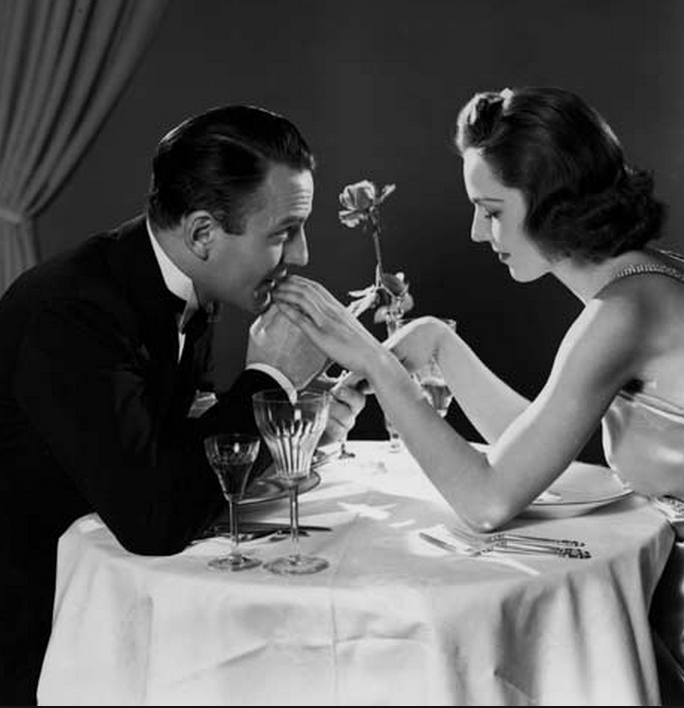 Please share this post if you know anyone who wants to could use a little extra pleasure in their life 😉
*I am sad to say that I have a prior engagement, and I will not make it to this event, but I will be attending the next, without a shadow of a doubt. Give my best to Tighe and Zachary. I absolutely cannot wait to meet the organizers of this event!
Important announcement!  On April 30, I will be hosting a live event with the lovely Rachel Rose, of Rachel Rose Holistic.  More details to come, but be sure to register for this FREE event on eventbrite to stay in the loop! This isn't one to miss, Rachel is incredible!