This is a special, holiday inspired recipe that I had to share, just in time for Easter.  If you're making a meal, this is the Easter dessert that will be the perfect addition to a healthy cuisine!
Last week, Joe and I went to Gracias Madre (a Vegan Mexican Restaurant) in San Francisco, and something very rare happened.
I used to be a huge fan of dessert after dinner.  Since I've decided to quit sugar, the desire to even view the dessert menu has completely disappeared.  I feel so much more clear, and energetic now that I've ditched the sugar.  There are so many very apparent benefits, that I'll be revealing all in a later article.  Even though I wasn't keen on ordering dessert, I was sent a message from the dessert Gods that I should inquire about the selection at Gracias Madre.  To my surprise, the Strawberry Cheesecake was made without sugar!  No agave, no honey, no coconut nectar…nada! Nothing!  All of those sneaky disguises for sugar were not mixed up in this recipe.  I was so elated that I ordered dessert.  I can't even begin to tell you how excited I was.  I felt like a kid on the edge of my seat…my face pressed up against the glass of the candy store window.  I'm not exaggerating.  I promise you 🙂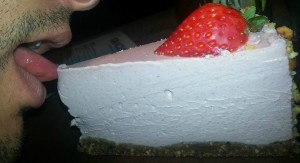 When the gorgeous slice of pastel colored pie arrived to our table, Joe and I had to control ourselves.  We took a moment to take a deep breath and feel gratitude for this delight.  After all, it's rare that we find a dessert that is exactly what we want at a restaurant.
I posted this photo on Instagram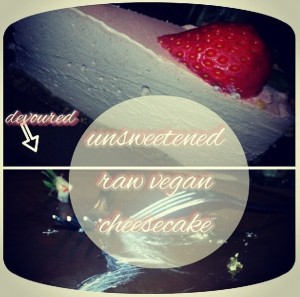 and received many requests for the recipe!
Try out this recipe, and DO be sure to let me know how it turns out.  Who knows, you might just decide to give up sugar!
Kitchen items needed:
standard pie pan or 8″ Square Glass Baking Dish
food processor
blender
cutting board
Santoku Knife, 4″ or just a good ol' fruit slicing knife
teaspoon to measure
measuring cup
citrus juicer for lime (optional)
Nutty crust
1 cup almonds
1 cup pecans
3 ounces pitted medjool dates
1/4 tsp vanilla extract
1/8 tsp Himalayan salt
Process all ingredients and form into a pie pan or glass container like a crust.
Strawberry Cheesecake
3 cups soaked cashews
4 cups strawberries
3/4 cup fresh coconut meat
1/3 cup lime juice
1 Tbsp vanilla extract
1/4 tsp salt
1 cup coconut oil
Blend ingredients in a blender or food processor until smooth and creamy. Pour into the crust. Freeze 2-3 hours. Garnish with strawberries or lime zest!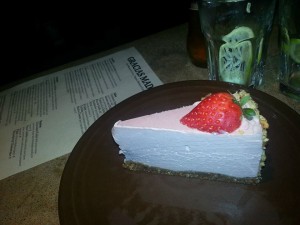 Please be sure to share this recipe if you loved it, and also share with me in the comments section below if you have any tips of tricks to make this recipe even better.  I believe that the best way to have fun in the kitchen is to be creative, and follow the recipe loosely.  If I don't have an ingredient in  my kitchen, sometimes I'll try something else.  More often than not, I end up with a delicious creation.  Have fun with recipes and make them your own!