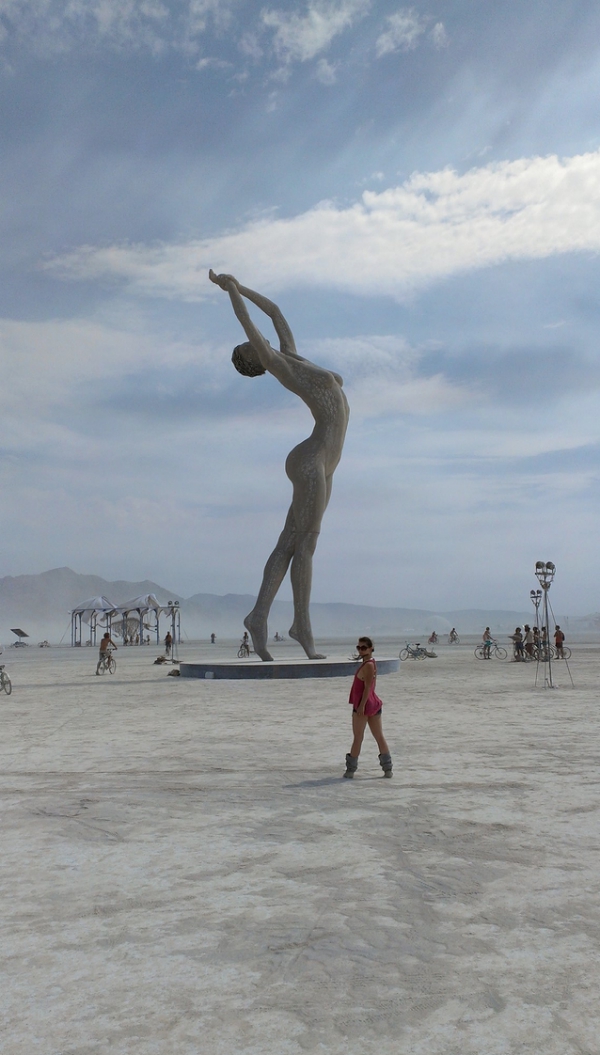 The title says it all! I'm on my way to Burning Man, and will be playing in dust for the entire next week. Life is moving at a dizzying speed since I started school, and when I settle myself and sit down to eat, all I can think about is Vegetarian Locro (Argentine Hominy Stew).
Last week, my friend from Argentina had his mother visiting. She made us dinner. It was a totally oralgasmic meal. My friend is a strict vegan, so his mother made this traditional Argentine dish just for him. She left out the usual five animals limbs and parts.
I fell so deeply in love with this meal that I MUST share the recipe. I did not make this myself yet, which means I didn't change anything or put my own spin on it. It was not easy to find a vegan or vegetarian recipe-but I did find one!  I HIGHLY recommend this hearty dish for a simple, quick meal. Since the main ingredients are chickpeas, hominy and beans (white or black), there are many, many ways to get creative and end up with just about the same dish! Try this mixture of ingredients, or add a few of your own-or leave a few out. There's not much to it, but I can attest. It's so tasty.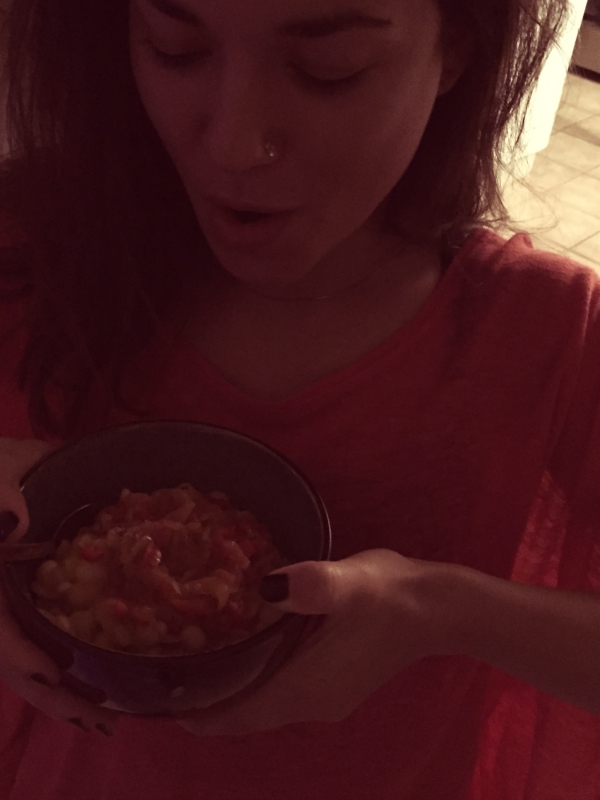 INGREDIENTS
14 oz. can Golden Hominy
14 oz. can Black Beans
14 oz. can Chickpeas
1 1/2 tsp Sweet Paprika
1/2 tsp Crushed Red Chile Flakes
8 cloves Garlic, minced
1 large Yellow Onion, minced
1/4 Red Pepper, diced
1/4 Green Pepper, diced
1 tbsp. Tomato Paste
1 tsp. Dried Oregano
½ tsp. Ground Cumin
1 Bay Leaf
1 Small Acorn Squash, peeled, seeded and finely chopped
1 Potato, chopped
Juice of 1 Lemon
1/4 cup finely chopped Scallions
1/4 cup finely chopped Cilantro
Kosher Salt and Freshly Ground Black Pepper, to taste
DIRECTIONS
Heat oil over medium heat. Saute garlic and onion in large pot until soft and fragrant, about 8 minutes. Add red pepper, green pepper, tomato paste, oregano, cumin, and bay leaf; cook for 2 minutes.
Add hominy, black beans, chickpeas, squash, potatoes and 10 cups water; boil. Reduce heat to medium-low; cook until hominy, beans, squash and potatoes are tender, about 2 hours. Stir in juice, scallions and cilantro; season with salt and pepper.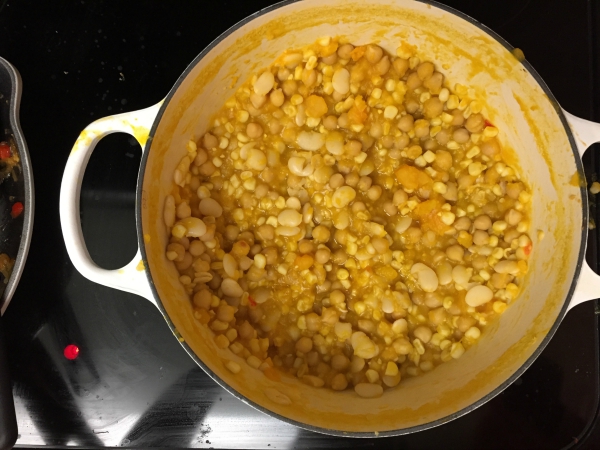 I am 100% certain that my mother's friend Locro was SO delicious for a few key reasons. She made it with love for her son, they picked up the local, organic ingredients from the farmer's market that morning, AND we all ate together with a lot of laughter and smiles. Sensual Food at it's best. Enjoy!