There's no good reason to spend hours in the kitchen every day. I highly recommend an hour or two-maybe once a week? Otherwise,
[Tweet "I'm all about fast, efficient and nourishing. "]
My husband Joe and I were traveling this summer and we wanted all the time we could get on the beach in Miami (we dream about that bathwater frequently). In other words, we wanted to spend as little time inside as possible. However, south Florida is nothing like the San Francisco Bay area. The sensual food scene is sparse. We opted for preparing our own at home. We rent through airbnb when we travel and always look for a decent kitchen. This spot couldn't be beaten.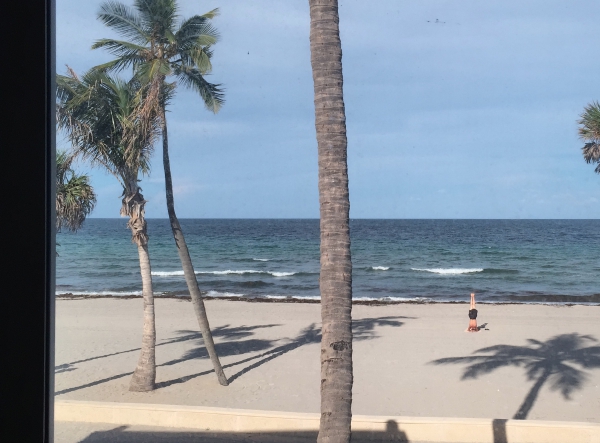 We're home reminiscing already. This kitchen wasn't so bad. I could spend a few extra minutes, or even an hour without the FOMO creeping in. I was staring at the beach from the kitchen counter! I was prepping my veggies, listening to the waves, and watching Joe in a headstand. I couldn't have been happier. It was still Florida sticky though. I'm not into air conditioning unless I'm literally melting, so we let that sticky air flow in and it didn't take too long before I was booking it to the water to cool down. We lived on a quick, simple salad for a good portion of our Florida adventure, so we could spend every moment possible in the sand. Check it out.
We ate right next to the window, and enjoyed the view. After the last bite, we were right back out with our toes in the sand. 30 second dinner to the rescue.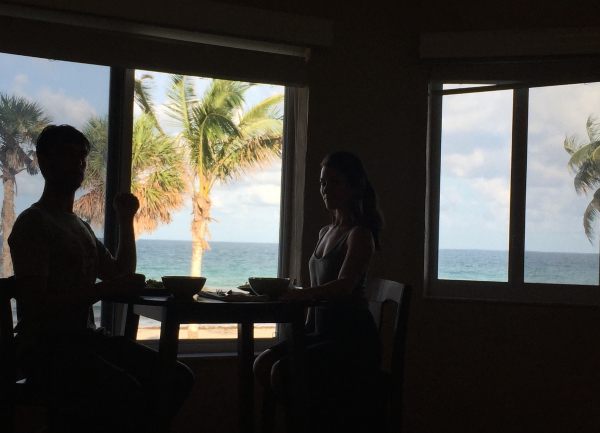 Maybe you're not running out the back door to jump in the ocean tonight, but you might be rushing to spend some time on a proposal, essay or just playing legos with the kids. Salads are an extremely creative way to put a tasty meal together in minutes…or 30 seconds. Make it easy on yourself!
Please share this with someone who tends to overcomplicate things (like myself :O), then, give them a hug.