I'm in Nevada this week for Burning Man!  While I dance my butt off in the heat, I long for cool, sweet indulgences.  As I daydream, hopefully I can vicariously live through you after I tell you where the best sweet spot is!
It's not often that I feel the need to review or even mention a dessert spot, as I am not a fan of sugar or processed food.  However,
I've discovered perfection!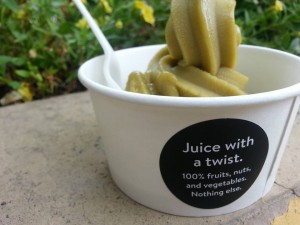 Joe and I love to break away from our day and go out for a long stroll and enjoy a sweet snack.  Yet it's rare that we do so anymore, as we don't seem to have many options.  There certainly are not an abundance of ice cream shops or places to get a desert that don't load up on sugar.    Fortunately, we live in a progressive area and there's a new kid in town that's not only naturally sweet, it's green too!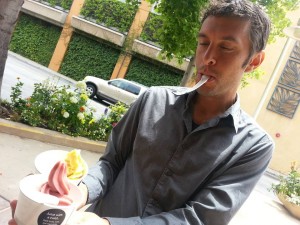 Pressed Juicery began as a cold pressed juicery, but now they've won my heart with their Pressed Juicery Freeze!  I am already a fan of cold pressed juice, as it's a great option for something sweet, that's unprocessed and natural.  So what about frozen juice, in soft serve form?  I'm thrilled.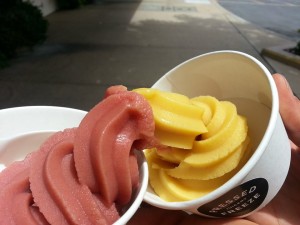 The lovely miss Tashina Combs and her partner Justin Mendez invited Joe and I out for a double date to try out the freeze, just recently.  I loved it so much, that I returned later the same day to bring our 12 year old.  Yes, I'll admit that there was a selfish motive.
Wondering what this magical freeze is?
Pressed Juicery freeze is simply soft serve, made from juice.  The ingredients are juices from fruits and vegetables, almonds, coconuts and dates; depending on the flavor. 
These are the six flavors.  The citrus freeze is certainly my favorite, as the consistency and flavor is most similar to ice cream.
Greens Freeze: 
kale, spinach, romaine, parsley, cucumber, celery, apple, lemon, dates, and coconut.
Roots Freeze: 
beets, carrots, apple, lemon, ginger, dates, and coconut.
Citrus Freeze: 
orange, apple, pineapple, dates, and coconut.
Fruits Freeze: 
apple, strawberry, coconut and dates.
Chocolate Almond Freeze: 
cacao, almonds, dates, vanilla bean and sea salt.
Vanilla Almond Freeze:
 almonds, dates, vanilla bean and sea salt.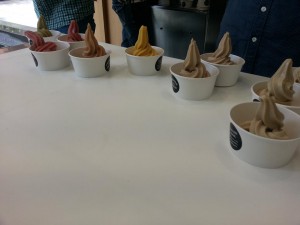 I'm in love!  
The Pressed Juicery Freeze is the perfect treat for lovers.  It's most definitely a sensual food.
Do you make your own ice cream?  Have you ever tried making it with just juice?  Let us know in the comments section below.  If you've tried the freeze, let us know what you think.  Make sure to share this article with your lover and friends, and spread the deliciously sweet love!