Joe (my husband) and I have been in transit since the day that we met…almost!  We love to break free from our daily grind and travel.  We're passionate about exploring the world.
Traveling with a lover can be challenging and very telling of the relationship.  I love to travel with Joe and we always have a lot of fun.  As I mentioned in 3 tips to keep a romantic getaway truly romantic, one of our favorite things to do in a new location is try the local fare.  This piece is extremely important.  Deciding what, where and when to eat in a foreign country can be tricky.  Getting to the foreign country-the time in transit, a whole other level of strategy is necessary.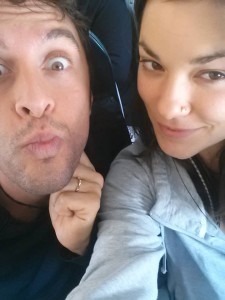 On our most recent trip to Bali, Indonesia and a short stop in Tokyo, Japan, we were (willingly) in transit for over 48 hours.  Believe it or not, we chose to have an extra long layover in L.A. to eat at our favorite restaurant there: Cafe Gratitude.  This was a great idea before a long flight from L.A. to Taipei, as we have no interest in eating the food provided by the airline.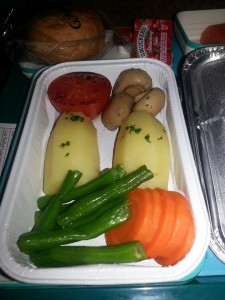 We bought meals to bring on the flight with us that would keep the longest, and were the most portable.  We also bought snacks from a grocery store with the same criteria.  Peeled raw carrots are one of my favorite travel snacks.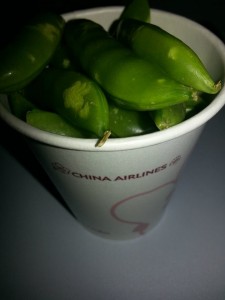 Crunchy, colorful and juicy raw veggies brighten up a long trek to the other side of the globe.
Have you been in transit for hours with someone close to you?  Did you get cranky for a quick second-or maybe a bit longer?  Did you get hungry and have to resort to whatever was available at the airport, in flight or train station?  These are situations Joe and I have experienced, and now we're always prepared to avoid any unnecessary tension.  Most importantly, we want to keep our energy high-so we pay attention to what we're taking in.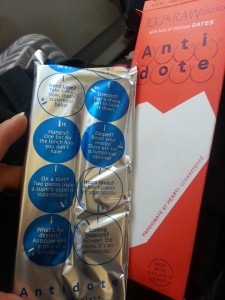 From experience, I know that food that is found in airports and in flights generally makes me feel cranky, bloated and uncomfortable.  Last time I checked, San Francisco airport is the only hub with edible fare.  Solution…  Bring your own!
Yummy and easy flight food ideas:
Raw meals bars (free of sugar)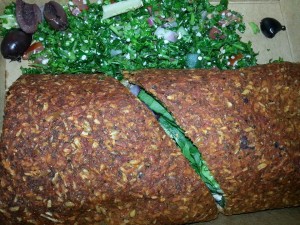 It's totally worth it to prep and pack at home (and fun to get in the kitchen together) and strategize.  Second best is hitting up your favorite local spot.  Eat fresh and green while in transit and be happy, globe trotting lovers!
Do you have a strategy for eating in transit?  What do you normally eat on a long flight?  How does it make you feel?  Let us know!  Share with us in the comments section below what you think about this subject and do share with your friends if you liked it!