I've just returned home from two weeks in Bali and a quick stop in Tokyo!
Both Destinations were absolutely wonderful and oh so delicious.  My husband Joe and I LOVE to travel to exotic destinations and enjoy all of the local food.  Needless to say, one thing we did a lot of during this romantic getaway was eat.  This is one piece of travel that could certainly send things south (ironically, growing up in Wisconsin has always made me want to head south).  The best way to feel good and enjoy every moment fully is to pay attention to what goes in your mouth.  
Asian food is my favorite…
without a shadow of a doubt.  More specifically, Japanese.  Balinese is a close runner-up.
Thus, Joe and I both had to be mindful to not indulge during our romantic getaway to this intensely beautiful island of Bali.  It's easy to get carried away stimulating the senses.  Although, engaging the senses and truly paying attention is exactly what will keep you in check.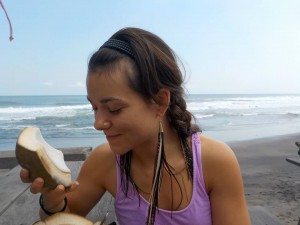 A silly thing that happens with Joe and I when we are at restaurants is that we generally decide to order the same thing.  We work this out when we're at a new place by deciding who's second option is more appealing to both of us.  This makes tip
#1
Choose your meal together and order two dishes that you'll share.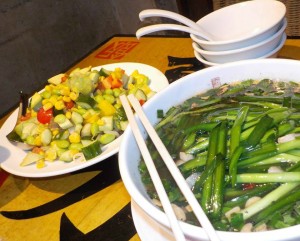 It's fun to try out a few items from the menu.  The major benefit of eating a meal with your lover is having the opportunity to taste more of what is offered.  There's no need to go for the big meal and over do it.  You'll both feel so much better after the meal if you keep the meal light, and
#2
skip the appetizer and sugary dessert.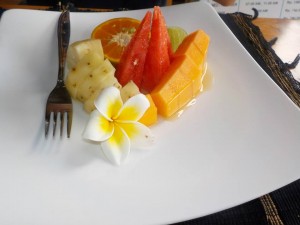 If you're starving when you arrive to the dinner table, drink up!  They should have water on your table at almost every restaurant. Then after the meal, if you're craving something sweet, go for a walk and stop somewhere for something very small and light, like fruit or one small chocolate.
#3
Eat light.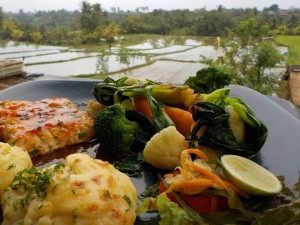 Heavy meals are not sexy afterward.  Feeling full, or even worse, over-full, is not a comfortable feeling.  Being playful and having fun with your lover doesn't come naturally when the food coma sets in.  Eat just enough.  This is when engaging the senses and paying attention can really be a benefit.  Chew slowly, smell the food, let it hit every part of your palette, and fully taste it.  Take a deep breath before, after and during the moment when the bite is past your lips.  Listen to the crunch or any sound that may arise while eating.  See and enjoy all of the colors and arrangement on the plate.  It's easy to eat light when the time is taken to fully experience the food and feel it nourishing every cell in the body!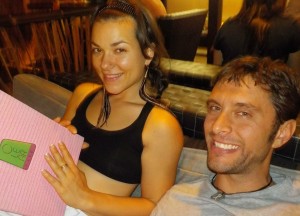 There you have it!  Three simple tips that can help keep a romantic getaway truly romantic.
Do you know someone planning a romantic getaway?  Be sure to share this with them if you liked it!  Let me know in the comments section below if you have anything to add or ask 😉