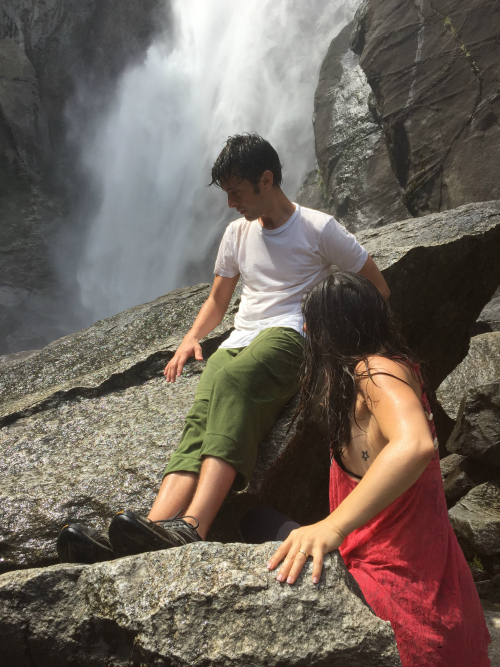 Hiking uphill in 85° weather for eight miles delayed this article. Have you ever visited Yosemite National Park? I visited for the first time last week and it was mind blowing. I can't believe I've lived only 3 hours away from this park for over four years. I would have gone once a month, if I had known how I would feel basking in the sun next to North America's tallest waterfall.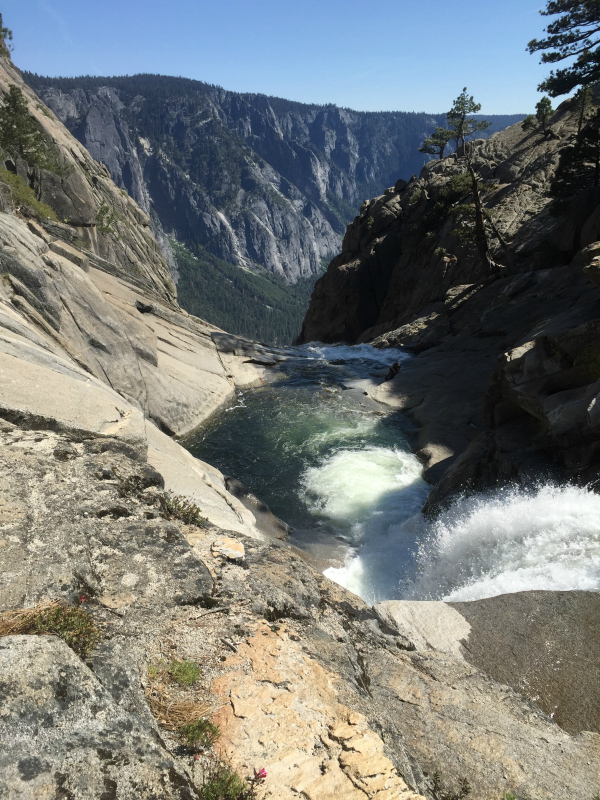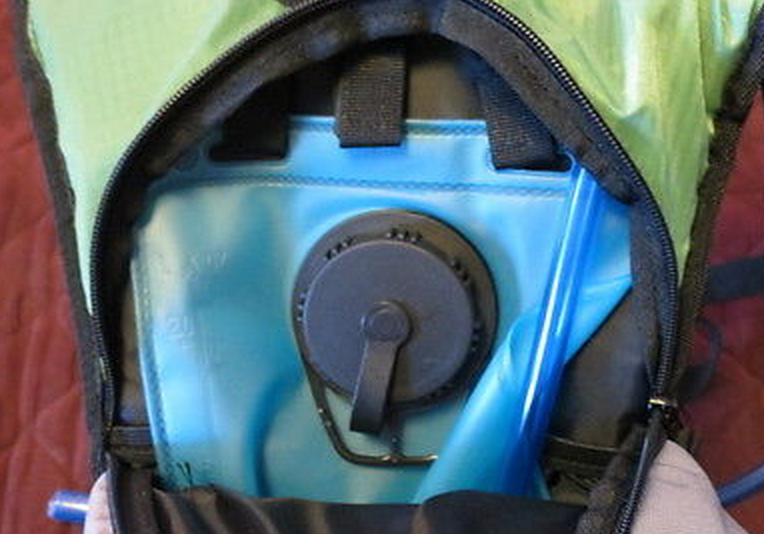 Joe and I headed out with our good friends from Argentina, and a close friend of theirs who was visiting from Buenos Aires. There were five of us ready to conquer the trail at 8am on Monday morning. We packed veggie burgers, apples, nuts and raw cacao macaroons. Water was the most important thing we'd all packed. I purchased a Coleman Revel 8L Hydration Backpack at Target (the only store with camping supplies in the area) because I forgot mine at home. Whoops! Shopping at Target is not my favorite, as I do believe in voting with my dollars (my vote is not for this corporation).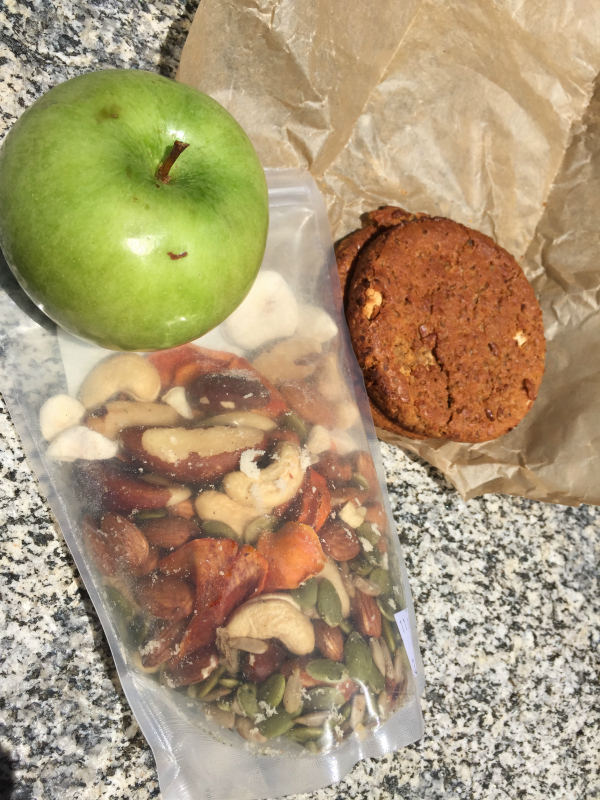 We filled up our water bottles at a fountain before approaching the trail. I also filled up the hydration pack. I brought my glass water bottle up as well, because I prefer drinking from it as opposed to the plastic hydration pack.
The hike was incredible. We were nourished from a big breakfast, and ready to take on the world. We panted and moaned, but made it a quarter mile from the top before I felt like falling over from exhaustion and thirst. I took the last sip from my water bottle, and joyfully pulled out the plastic hydration pack to fill the bottle back up. I felt prepared and was ready to continue on…but then, something terrible happened. I took a big gulp of the water. It was so repulsive, I gagged and my stomach churned. The plastic from the hydration pack had completely contaminated the water. I gave it to Joe. He couldn't even get it to his lips. Then, our friends tried it. There was no question. The water was undrinkable.
We were out of water and we still had a quarter mile up and eight miles down. I tried to stay calm but felt my heart racing. The sun was blazing, my shirt was soaked with sweat and it was hours before we'd see potable water.
This certainly was NOT the time for dry mouth, cramps, stiff joints, severe irritability, fatigue, or severe headaches. These are all symptoms of dehydration.
We somehow continued on and I felt all of these symptoms creeping up. It was a miracle when-on the way back down, I met an angel who offered their water filter, and we were able to drink the water that happened to be flowing down one single spot along the trail.
I have considered contacting the company to let them know that their product is designed poorly, and that the plastic is toxic and should not be used to carry water. I have not yet done so, but have decided that it IS important to share that glass is the way to go! Plastic is not for human consumption. If I would have managed to gag myself with the unbearable taste, and get that water down, it would have been more harmful than the dehydration.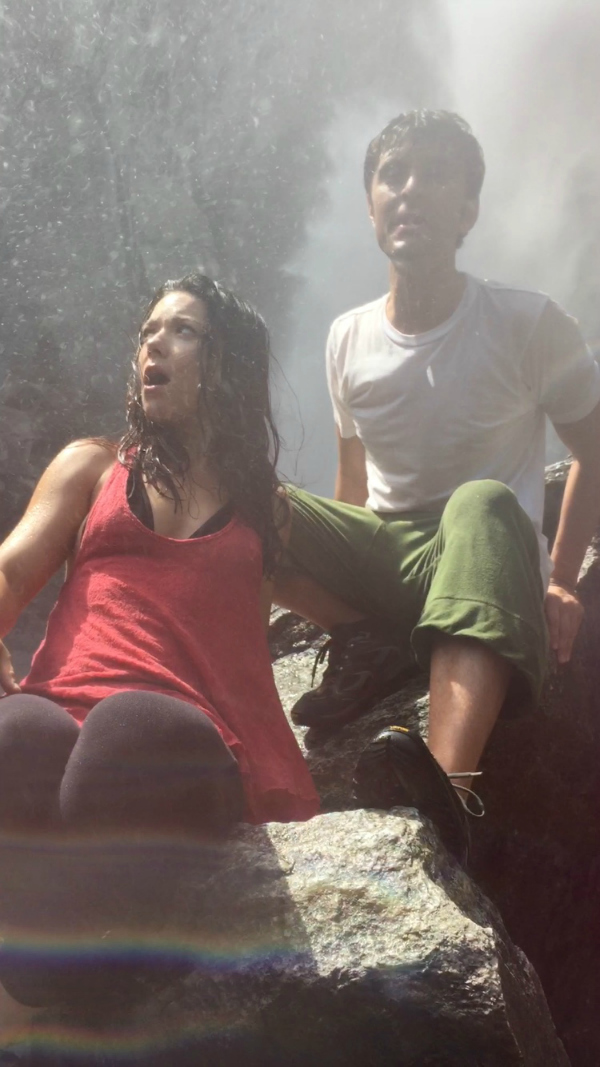 I'm so grateful that my love, Joe, and I made it through this moment-because I was certainly feeling horrible by the end of the hike. This experience plays out in everyday life. I may put all of the "right" food in my mouth, but I am guilty of not hydrating enough. Water is more important than food!
I'll continue this topic with where Joe and I collect our spring water, and why we don't purchase water in plastic, or drink it from the tap. Though for now, I urge you-drink from glass, and drink a lot!