Did you carve a pumpkin this year?! If you did, congrats on being fun and playful. If not, don't tell me you're too old. We're never too old to carve pumpkins!
There's still time to get your pumpkin carving on!
Even if you're a grinch of Halloween (I'll admit that I've been know to get a little grinchy during the Christmas holiday) pumpkin carving is always a great idea.
Why am I all about this pumpkin carving business?!  Two main reasons that I'll elaborate on: inner and outer nourishment.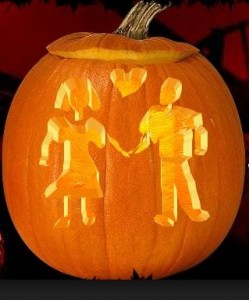 For my husband Joe and I, opportunities to get messy, silly, and playful together are rarely passed up.  Diving into a big, sticky, squishy pumpkin is full of messy surprises.  Get creative!  Try throwing on a pumpkin face mask when the other person turns around.  Stick your hands in together and fish for seeds.  See who can carve the most ridiculous face.  There's options 😉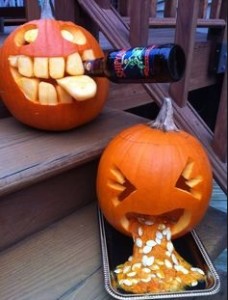 You get the gist, right?  How often do you do something playful and creative with your partner?  This is the perfect opportunity.  Not only is this an enjoyable experience, pumpkins are delicious!
Pumpkin pie, anyone?  I love pumpkin pie.  I love the creamy, dense texture and sweet aroma. Not to mention pumpkin seeds, fresh and toasty-straight out of the oven are so tasty!  Once you carve the pumpkin, no need to stop there-make the pie!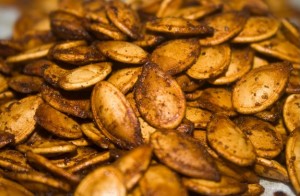 Preheat oven to 350 ºF. Bake the whole pumpkin in the oven. Let it cool in the fridge until you can handle it, then scrape the flesh off the skin and puree in a food processor.
Lightly oil an 8 or 9 inch pie plate (I prefer coconut oil).
In a blender, combine dates and the almond milk. Set aside.
In a food processor, combine rolled oats, pecans, and ⅓ cup dates. Process until mixture becomes a thick paste, yet somewhat flaky. Use mixture for next step.
Coat bottom and sides of pie baking dish with an even thin layer.
Mix cornstarch, cinnamon, ginger, salt, and cloves. Stir together with a whisk and add pumpkin.
Blend dates and almond milk until smooth. Add to pumpkin-spice mixture and beat well with a whisk to combine all ingredients. Pour the filling into the crust and spread it out smoothly. Bake for 45 minutes.
Insanely delicious Pumpkin Pie ingredients
6-8 plump, soaked (overnight) dates, pitted and quartered
1 ½ c almond milk 
***
⅓ c rolled oats
⅓ c pecans
⅓ c dates, pitted and quartered
***
3 tbsp cornstarch
1 tsp cinnamon
1/2 tsp ground ginger
1/4 tsp salt
1/8 tsp ground cloves
***
2 c fresh organic pumpkin puree
If you can find a great whipped cream option, ready-made…lucky you! If not, this is a great recipe.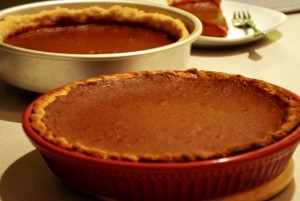 Do you have any fun pumpkin experiences that you'd like to share? Let us know in the comments section below!  If you have a deep love for warm, creamy pumpkin pie (like I do), please let me know what you love about it 😉  It's always juicy learning about food love!  Have a fantastic holiday and keep it sensual in the kitchen!