My Happy Drug, that is!  First things first.
Somehow, in this adventurous life I lead, I board a flight at least once a month.  Fortunately, I love traveling. I love the energy and the many unique people I encounter. I love learning how to acclimate to new places.  I even love airports-especially my main hub, San Francisco International Airport-talk about Sensual Food options, OH yeah!  One thing I have found to be true from the 100+ flights I've boarded in the last few years, is that I need three main things to keep me going while in transit.  Number one is, of course, Sensual Foods: the highest quality organic and sustainable food available.  The second is physical activity; I prefer Yoga or dance, and the third-without a doubt, is laughter.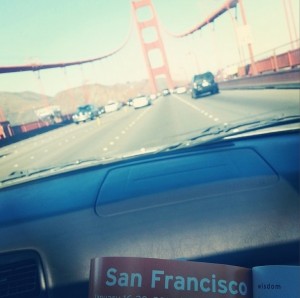 My latest trip to Los Angeles inspired this article on how I tune into what body is really needs.
Traveling can be demanding both mentally and physically. When I reach my destination, and am expected to perform, or be photographed and filmed, I honestly need to be super charged to maintain balance.  Needless to say, being on set for a "reality TV" show while in Los Angeles just recently, required a lot of fuel.  I'll share details just before the show airs in the next few months, as I'm sworn to secrecy ; )
Yoga and dance, or just physical activity in general is crucial-and key!  When you pass the static while tuning to a radio station, is the perfect depiction of how this works for me.  It's all a bunch of unclear noise in my head, until I move my body and sweat!
I really get in tune in to what my body needs post intense physical exertion.  I've practiced Yoga for over ten years, and it's evolved into a playful journey each time I step on to the mat.
One of my favorite places to visit while I'm in LaLaLand is, shockingly enough, not a super organic, farm to table, hip little restaurant-but they're certainly on the list, it's a Yoga Studio!  After an intensely blissful Yoga practice, my body craves fresh, vibrant whole foods.  My practice in Steve Ross's classes at Maha Yoga are always fantastic.  Yoga enables me to make healthier choices when it comes to eating, so I don't end up grabbing whatever is most convenient when my energy drops-especially important while traveling.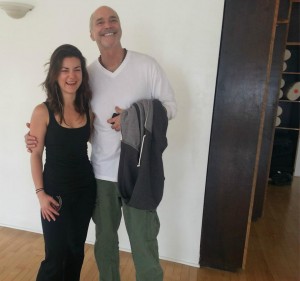 When you are stressed and your thoughts lead to tension in the body, you can end up feeling depleted, and the natural instinct is to find a way out of the discomfort.  Food is a way to change your state.  It's place to focus, other than on the thoughts that are leading to stress.  An intense, physical yoga practice leaves me stress-free and overflowing with endorphins.  You know, those happy chemicals that trigger that blissful, positive feeling in the body? Not only do I get my happy Yoga high after a Maha class, Steve is a silly guy-he doesn't take anything too seriously and his classes are full of jokes and smiles.  His book, Happy Yoga: 7 Reasons Why There's Nothing to Worry About, had me hooked after page one.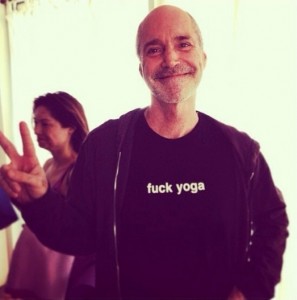 If I can't pop in a Yoga class, I always find a way get physical as soon as possible after a flight, to tune in and make a smart decision rather than one urged by travel induced stress.
Time can be an issue, as we all know.  During this recent trip, I did go to bed at 2am, wake up and 6 and was on set until 10pm.  During that super long, day while I experienced a moderate lack of sleep, I still managed to fit in a few Yoga postures and a brisk 10 minute walk from the parking garage to the building.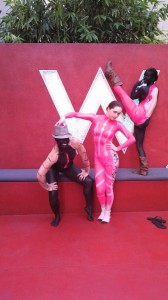 You choose what you make time for.  Your body is yours, and only yours to nourish and take care of.
Let's not forget.  Traveling with my husband Joe is when this concept gets reallly fun.  WE LOVE practicing Yoga together. It's so much easier to be healthy and stick to a great routine when you have a partner by your side.  Joe and I have traveled all over the world together and we make a point of mapping out our Yoga spots before arriving. We find the style we love online, and it's a mission that we go on as we make our way through the adventure.  If you're cooking up sensuality in the kitchen, consider Yoga (or whatever physical practice you choose) to be part of the prep work!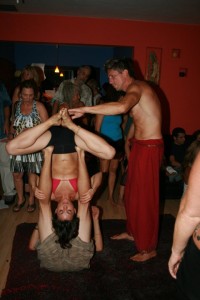 I'd LOVE to hear from you.  What do you crave after an intense, sweaty workout?  If you're not sure, get your butt movin' and find out!  Please let me know in the comments below, and feel free to ask questions.  If you're not quite there yet, and looking to get more in tune-check out my services so we can unleash your inner sensual foodist ; )