…or maybe just your day.
Mexico was blissful.  I'm sad it's over, and yet so grateful for the time we spent in tropical paradise.
A few days before we departed, our photo shoot on the beach was the perfect opportunity to capture the essence of the trip.  We woke up before sunrise; around 5 am and stepped onto the sand just as the breathtaking colors flooded the sky.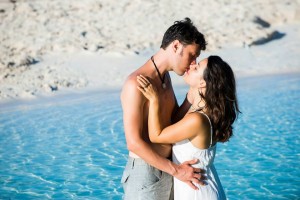 Everything was magical.  It was quiet, peaceful, and the colors were stunning that morning.  There was only one issue.  As we rushed out, we discovered that our hosts were fresh out of bottled water, and it was too early for us to buy water anywhere.  Sweating buckets in Mexico without water to drink isn't the most pleasant experience, but we figured we'd survive, and departed without H2O.…